Cecilia Arriaza (She/Her)
Director
Cecilia has been the director of the Cadena Cultural and Transfer Center since July of 2012.  Prior to joining Fullerton College, she was a classified Student Services Coordinator in the Transfer Center at Santa Ana College.  She also has student service experience from prior positions at CSULB and UCLA.  Cecilia has been an active member of the Diversity Committee at Fullerton College for many years including serving several years as chair.  She is also committed to ensuring that all students have an opportunity to achieve transfer and improve their lives through higher education.  Cecilia enjoys traveling, hiking and spending time with family.
Gilberto joined the Cadena Cultural Center and Grads To Be Program in July 2019.  An Orange County native, Gilberto did his undergraduate work at California State University, Fullerton where he earned a BA in Public Administration and a Minor in Political Science.   He then earned an MA in Higher Education & Student Affairs from the University of Connecticut.  His professional experience includes Residence Life, Multicultural Affairs and Leadership Development.  His hobbies include baking, watching sports, traveling and spending time with his wonderful partner and family.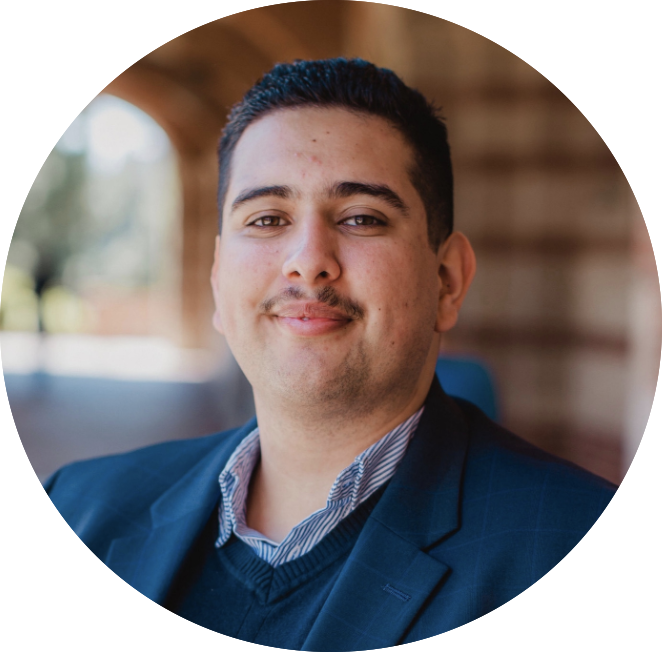 Julio C Reyes Cabezas (He/Him)
Student Services Specialist
Julio brings a passion for working with students as well as a wealth of knowledge and experience related to best practices for supporting undocumented and immigrant student populations.  Julio's higher education journey started at El Camino College Compton Center (ECC).  He transferred to the University of California, Los Angeles (UCLA), where he majored in Psychology, and double minored in Education Studies and Labor and Workplace Studies.  His professional experience includes working for the UCLA Undocumented Student Program (USP) as the Resources Outreach Coordinator, informing the campus community about undocumented student experiences and resources.  He also worked in the Academic Advancement Program (AAP) as the Lead Peer Counselor, where he provided academic advising with holistic efforts to diverse students. Julio was also a student advocate and activist through the student organization Improving Dreams, Equity, Access and Success (IDEAS) at UCLA, a trailblazing organization in the Immigrant Youth Movement. Julio's hobbies include watching TV shows on Netflix, learning different things on Youtube, and spending quality time with loved ones.
Tom joined the Grads To Be team in Fall 2019. He has 12 years of experience working in the community college system, working in Admissions & Records, Veterans Services, and with the last five years serving students in Academic Counseling. Tom is a product of the community college system and transferred to UC Irvine where he earned a BS in Psychology & Social Behavior. Tom earned his MS in Clinical Psychology and also practices as a Licensed Marriage & Family Therapist. In his free time, Tom enjoys photography, playing basketball, watching movies, eating good food, good conversation, and figuring out the beauties and complexities of life with his wife and 4-year old foster son.
Melisa Valdovinos (she/her) serves as a program assistant for the Grads to Be Program.  She majored in Spanish Language & Literature at California State University, Fullerton.  She previously served as the Social Justice Educator at the Chicana and Chicano Resource Center at CSUF.  She loves to read books written by people of color and drink lots of coffee!
Janet Polanco (She/Her)
Mental Health Counselor
Hello! Hola! I am a Licensed Clinical Social Worker. I completed my Master's in Social Work with a concentration in Mental Health from USC.  However, I also went to school across town,  at UCLA where I received my BA in Chicana/o Studies and Sociology.  I have worked in the community mental health setting for over 10 years.  I am passionate about working with underserved communities to provide psycho-education, therapy and help destigmatize mental health. When not working I love to disconnect by taking walks or hikes, documenting life with 2 fur babies, tending to vegetable garden and trying out new restaurants and foods.